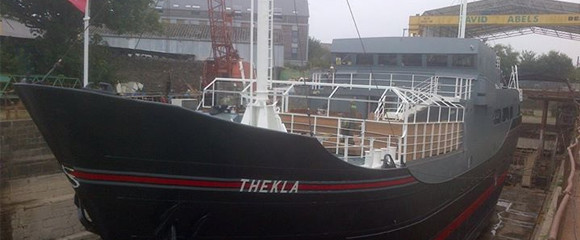 Owned by DHP Family since 2006, the boat moored in Bristol's Floating Harbour welcomes around 100,000 visitors a year, and celebrated its 30th birthday in May this year. While the ship was out of the water for the first time in eight years a major three-month refurbishment has been carried out.
During this time the extensive overhaul has seen the top deck reconfigured to create more space and offer more windows views across the water. Other notable changes include increasing the number of toilets, soundproofing to the hull and smoking area, new outside seating, new floors, a new staircase and an additional entrance to improve the traffic flow in and around the venue.
The Electrical installation consisting of lighting, power, access control and fire alarm has been sympathetically carried out to fit in with the character of the ship including using reclaimed marine lighting in many areas.
We have been associated with The Thekla for many years, carrying out installation, maintenance, testing and repairs aboard this iconic boat venue.
Gallery: