MAINTENANCE AND BREAKDOWNS
If you are experiencing electrical problems – anything from a faulty socket outlet to a complete electrical shut-down – please call us on 0800 043 1292. We can arrange for an electrician to be with you as soon as possible, to ensure that you have things up and running again quickly and without fuss. Our prices are competitive and all our electricians are friendly and professional.
Breakdowns
There is nothing worse than an unexpected breakdown, particularly in a place of work or a rental property where you have a responsibility to resolve any issues. At short notice we can send out an experienced electrician to help you with any electrical problems you may be experiencing, so please don't hesitate to give us a call.
Maintenance
The best way to prevent breakdowns is to have regular electrical maintenance performed at your facility. In addition to routine maintenance and upgrades (e.g. replacing all fuses every 12 months), our electricians can also spot and deal with any minor faults, thus preventing larger breakdowns from occurring in the future.
We can sit down with you and draw up a plan that will fit your exact requirements and budget, leaving you to get on with your work while we take care of your electrics. As well as giving you peace of mind, setting up a maintenance contract with us can save you money in the long term, as breakdowns can ultimately be very costly.
All our electricians are friendly and professional, and they will do their best to carry out any maintenance work quickly and without disruption. A typical maintenance contract would involve one of our electrical specialists visiting your site every three months to perform basic electrical checks, as well as carrying out a full inspection of your electrical system once every twelve months.
If you would like to have a chat about setting up a maintenance contract with us, please call on 0117 960 2485 or free phone on 0800 043 1292. You can also contact us by e-mail at info@ronclarkelectrical.com.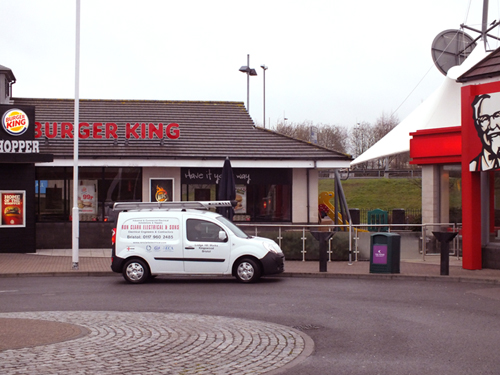 Attending a Burger King Restaurant in Bristol to perform routine maintenance.