LIGHTING INSTALLATIONS
At Ron Clark Electrical & Sons we have a specialist lighting design team with many years of experience. No matter how specific your requirements, our experts will be able to offer the advice and guidance you need to achieve the lighting set up you are looking for.
We supply and install an expansive range of luminaries for a whole range of clients, everything from small independent shops and privately owned rental properties, to large offices and factory units.  Whether you need a modular system, down lights, accent lighting, bulkheads, bollards, post tops, emergency lighting or even floodlighting, we will be able to provide something to suit your needs.
One of the most popular services we currently offer is an energy efficiency survey. This involves comparing the current cost of lighting your premises to the reduced cost of a new energy efficient system. With new LED lighting systems, it is amazing how much money you can save by changing your lighting system, particularly in larger facilities with lots of lights.
The government also offers Enhanced Capital Allowance on any changes to your premises that result in improved energy efficiency, so you even get an additional tax break to help out with the cost of upgrading your lighting!
Whether you want a full lighting system installed, an energy efficiency survey undertaken, or just some expert advice, feel call us on 01179 960 2485, or free phone on 0800 043 1292. You can also contact us by e-mail us at info@ronclarkelectrical.com.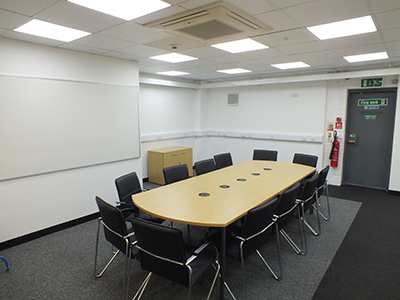 This photograph is of a refurbished meeting room, where the thirteen existing four-tube lighting modules were directly replaced with thirteen 34-watt LED panels. This made an energy saving of 55% and an annual carbon emissions saving of 1,109.72 (CO₂ /Kg)