HAZARDOUS AREA ELECTRICAL INSPECTION, INSTALLATION AND MAINTENANCE
At Ron Clark Electrical and Sons we have had a hazardous area specialist division for over thirty years. During this time we have carried out work for a wide variety of clients, from small independent operators such as paint storage facilities and privately owned petrol stations, to larger national organisations such as the MOD and the RAF.
Electrical work that is carried out in areas where potentially explosive atmospheres may be present, such as gases, vapours or combustible dusts, must be done in accordance with technical standards and strict NICEIC safety guidelines. We have a number of fully qualified electrical specialists who are extremely experienced in these areas, and our company has NICEIC approved contractor status.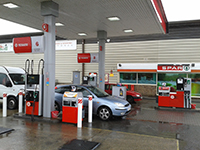 In addition to our NICEIC approved status, all staff members who work in hazardous areas have the appropriate CompEx qualifications. To learn more about Compex feel free to take a look at their website. 
Installations that are recognised as hazardous areas, such as petrol stations, chemical plants or paint stores, are required by law to undertake routine electrical safety checks. We are able to provide fully qualified experts, who can visit your site and carry out an electrical safety inspection for you each year. They will then be able to advise you on any electrical maintenance work that needs to be carried out (if faults are detected), and provide you with your safety certification when the task is complete.
We feel that the key to hazardous area work is providing industry recognised experts who are reliable, friendly and easy to work with. This is something we have been doing for over thirty years, so you can rest assured you are in safe hands.Feel free to call us on 0117 960 2485, or free phone on 0800 0431292 for more information. You can also contact us by e-mail at info@ronclarkelectrical.com.